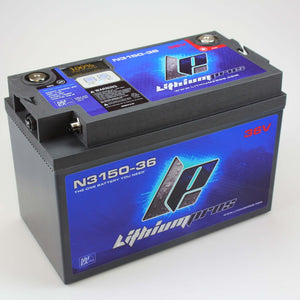 Press Release: Lithium Pros brings NMEA 2000 connectivity to its new N series of batteries
Tuesday, September 28, 2021
For Immediate Release
Lithium Pros announces series of batteries with the BM-21 Embedded Battery Monitor and NMEA 2000 micro port
Lithium Pros introduces the "N" series of batteries including the new BM-21 embedded battery monitor with NMEA 2000 connectivity. The "N" series is a premium line of lithium iron phosphate batteries for marine use and is world's first marine lithium-ion battery that is directly addressable on the NMEA 2000 network.  It is "plug and play" with all NMEA 2000 multi-function displays.  Simply select the individual battery from the NMEA 2000 device list and configure it. This series is available in 12V, 24V, and 36V models. 
The BM-21 is NMEA 2000 certified, and reports all required PGNs as well as the three standard battery related PGNs:  127506, 127508, 127513, as well as alert PGN 126983.  This put the individual battery voltage, current, time remaining, state of charge, and temperature all on the network. In addition, the BM-21 also records warnings and alerts events with a real time/date stamp.  Also, cumulative lifetime amp-hours are recorded.  This information is available on the optional OLED display.
The first models in this series, the N3150-36 and N3150-36D (with display) were released at the 2021 IBEX show in Tampa, FL and will be shipping by November 1, 2021.  Other models will follow in 1Q 2022.
"This series of lithium-ion batteries is exactly what the marine industry needs.  In all boats but especially smaller boats under 40', the compact size yet high power and high energy density of Lithium Pros batteries is creating value for boaters and competitive advantages for tournament anglers. Having battery status and alerts right on the MFD that every angler is already looking at is huge." said Kevin Bennett, President of Lithium Pros.
Lithium Pros has been innovating lithium-ion batteries for marine use for ten years including being the first to offer a 36V trolling battery to replace three lead acid batteries.  It's "the ONE battery you need."™
Located at 4123 Topeka Street, Knoxville, TN  USA, Lithium Pros designs, manufacturers, and distributes high performance lithium-ion batteries for marine use and other markets. Lithium Pros offers lithium-ion batteries in range from 12V to 48V for various applications, as well as a complimentary line of accessories.   Lithium Pros is the leader in high power lithium ion and their products start some of the fastest vehicles on Earth. Please visit their website at www.lithiumpros.com or call 1-865-688-2083 for more information.